Extra Income: Build a Stable Financial Resource with Multiple Income Streams
We are at such a time when earning extra income has become a necessity to many individuals and families. Gone are the days when an individual or family could survive upon a single income.
Today, the economic factors are such that survival on a single or two incomes has become hand to mouth. Going by this trend we can very well imagine what the future holds for us. A single or two incomes certainly will not be enough. It's best then to have extra income streams flow into your personal finances than to face an insecure future. The concept and importance of extra income becomes all the more apparent.
People who have been financially smart have always known and taken care of this. If one income dries up, one can always fall back upon the other income streams, and if all go well you can only get richer, no harm in that. The average living person has always been in a dilemma regarding this. Loss of one income really affects them adversely and it would take years of hard work before any normalcy returns. Not to mention, the rippling effects of financial anguish that could cause a lot of unwanted emotional disturbances and sufferings.
Having several sources of extra income gives you a backup to fall back upon. If one source dries up, you should not feel the difference. You should have enough time to reorganize and regroup, that's it, and you are back on the happiness highway, safe and sound.
What Makes For a Great Source of Extra Income
When assessing how you can generate multiple income streams, consider these factors:
Enjoyable: Creating additional income streams is a lot of work, so you might as well enjoy what you will be doing to earn more income.
Sustainable: The ideal extra income source should be something that will continually generate cash and can eventually function without you.
Flexible: The ideal additional income source will allow you to have control of your time. Particularly if you have a full time job, the last thing you want is being tied down to working several hours each day at a second job or home business.
Scalable: Look for income sources that have at least the potential of generating significant amounts of income.
Inexpensive: Look for income generating ideas that require massive little investment.
Multiple Income Streams Ideas
The kind of extra income ideas you will implement will depend on various factors including your financial goals, skills and interests, current job or business, financial intelligence and education, single or married, if married, whether one partner is working or both, available financial resources and spiritual beliefs.
Here are three (3) major areas to find your multiple income streams ideas:
1. Rent Out Your Stuff
You will be surprised to find that there are a lot of things around your home that you can rent out to get additional income. Just look around the house. It can be machines like lawn mowers, ac/dc power generators, or tools and equipment of your failed business venture.
You can:
Rent out a spare room. Got an extra room in your house/apartment? Consider renting it out.
Rent out your Car/Van/RV. You can rent out your car to a car hire or tour company and get paid monthly. Negotiate for a better deal.
Sell ad space on your car/van/RV. Depending on your location, the make and model of your car, and your daily commute, you can actually make a decent amount of money by letting an advertising agency "wrap" your car with advertisements.
Resources:
Check out these rental sites.
Hire ThingsTM
Rent Stuff Easy
Zilok
Loanables
RenatlicTM
2. Start a Home/Part-time Business or Job
Evaluate your skills to find a niche for a small home/part-time business or job you would enjoy doing. Write down a list of all the jobs you've held and see if that generates any ideas.
You can:
Do freelance work e.g. writing freelance articles / or books
Teaching / tutoring - Depending on your educational background, this can be a good source of cash.
Become a tutor. Do you live near a high school or college? Are there any subjects that you're particularly good at? If so, then consider tutoring in your spare time.
Teach a language. For those that are fortunate enough to be fluent in a second language, you can make money teaching it to others. Do tax preparation on the side, if you are skilled in tax matters.
Resources:
Profitable Small Business Ideas at Mysmallbiz.com
Business Idea Center at Entrepreneur.com
3. Translate Your Passion Into Additional Income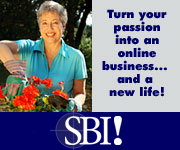 Most people have a thing or two in their lives that they're deeply passionate about. Why not convert your hobby or passion into a source of extra income.
What's your hobby?
Photography: freelance photography, travel photography, child photography, pet photography
Drawing and painting: portrait sketches, pet sketches, reproduction prints, book illustration
Carpentry: wooden toys, dolls houses, rustic garden furniture, woodcrafts, tree house manufacturer
Computers: computer training, computer repairs, web design, book-keeping, CV writing, desktop publishing
Gardening: landscape gardening, garden maintenance, garden tools hire, florist shop, tree pruning
Cooking: catering service, frozen foods, personal chef service, cookery book or articles writer
Resources:
Do You Know Something About Anything? A Hobby? A Passion? Any Interests? Experience?
If you do, then SBI! is the best resource i know that is right for you. It will help you turn your knowledge into revenue.
You can take a Video Tour of this resource and find out how it's possible to turn your passion, hobby or interest into a real business that can be a source of extra income.

OR

If you want proof of how others have turned there hobbies and passions into business, then here are Case Studies for you.
Related Articles
Join us on Facebook using the 'facebook' button on the toolbar below.